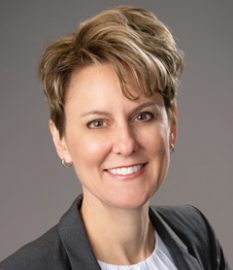 Dena W. Thayer, DO
Dr. Dena Thayer is board-certified in plastic and reconstructive surgery.
She received her medical degree from Des Moines University in 1997 and completed her training in general and plastic surgery at the Philadelphia College of Osteopathic Medicine in 2004. During her time in Philadelphia, she cared for melanoma patients at the world-renowned Memorial Sloan-Kettering Cancer Center in Manhattan and spent six months at the Burn Center at Westchester Medical Center in Valhalla, New York. Since then, she has been practicing in West Michigan and performs surgery at Mercy General Health Partners, North Ottawa Community Hospital, and the Muskegon Surgery Center. She is the co-director of wound care at Select Specialty Hospital and the Mercy Wound Care Center.
Dr. Thayer has been practicing in West Michigan for 15 years. She is passionate about breast cancer treatment and reconstruction. She enjoys guiding patients through the process of breast reconstruction. MSA incorporates the latest technology in breast cancer reconstruction, including intraoperative audiography (to improve postoperative healing and outcomes), prepectoral reconstruction with acellular dermal matrix grafts, and oncoplastic reconstruction using the patient's own tissue. She works with a team of dedicated breast surgeons and oncologists to deliver the best possible care and outcome for her patients.
In her free time, she's all about the outdoors. Her interests include triathlons, running, hiking, camping and sailing. She has three teenage daughters and as a family they enjoy soccer, ice hockey and track.