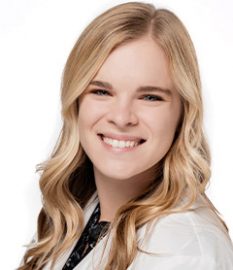 Marissa McCleve, PA
Marissa McCleve, PA is a part of the General Surgery and Trauma team.
She was born and raised in Muskegon, MI. Marissa previously worked in neurosurgery at Mercy Health Muskegon. She graduated from Central Michigan University PA program in 2018 and received her Undergraduate degree is from Grand Valley in Allied Health Sciences. She is a member of the American academy of physician assistants and the Michigan academy of physician assistants.
Marissa and her husband, John, have a golden retriever named Scout. They enjoy traveling, spending time with family and friends, and spending time outside.