Good Service
We understand that our patients have many options when it comes to choosing a vascular surgeon. That's why we ensure our talented and experienced medical staff provides exceptional, state-of-the-art services for our patients.
Good People
We're passionate about what we do. We're driven by the unique challenges of the vascular field and the rewards of improving, and in some cases, saving our patients' lives. Our door is always open, providing around-the-clock care for our patients. We don't think of this as a job; this is a way of life. It's our calling, and it's what we're wired to do.
About Us
Good Place
Our vascular services team is the only one of its kind in Muskegon County. We're right here, close to where you live, providing an exceptional level of vascular care to our community. Our commitment to our patients doesn't stop at the office door. We strive to make the entire experience, from home to hospital and back home again, as convenient as possible for our patients.
Meet Our Team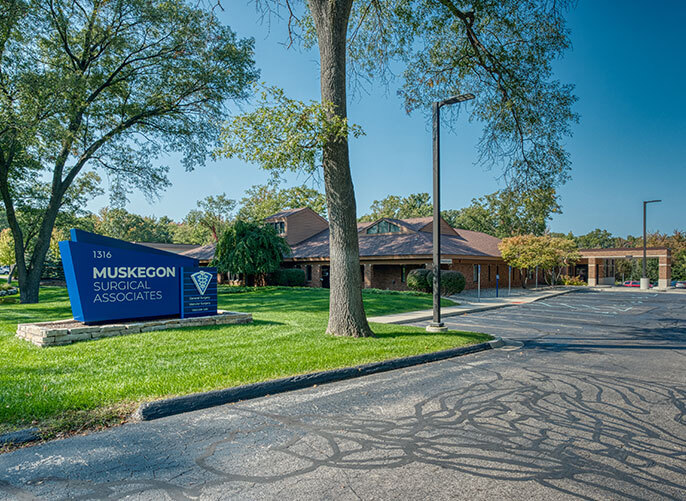 Patient states she is back to running, was very happy with the procedure and results, had no pain "it was phenomenal." Varicose Vein Patient

My leg feels great every day! I am grateful, I can now sleep all night long. Mary Haak

I can finally see my knees after twenty years! I can wear shorts to the gym and not be embarrassed. I feel so much more confident! Funny how we can alter our lives and lifestyles by "fixing" physical blemishes. I would recommend this procedure to anyone who wants to hear me talk about it! Victoria, West Michigan Lakeshore

Since my vein procedure, I am able to wear regular boots and not the wide calf grandma stuff! And, Capri pants fit the same on both legs! Thank you! Sarah, West Michigan Lakeshore

After my treatment, my throbbing leg pain in both legs disappeared right away. When I lay down at the end of the day, I no longer have the intense pain I once had. I feel the way a young mother of four should feel. I wanted you to know what a difference it has made in my every day life. Your staff is such a pleasure to be around and made for a great experience! Karen, West Michigan Lakeshore
Good Experience
MSA provides a more personal level of care that you don't typically see in larger healthcare networks. We're an independent team of surgeons, so we're able to customize our services to meet the needs of our patients. Our smaller size makes it easy for us to build and maintain closer relationships with our patients and their families. Continuity of care – being able to see the same doctor at each appointment – makes visits with us more personal, more effective, and more successful. That benefits everyone.
Learn More
Latest News
Diabetes is a chronic (long-lasting) health condition that affects how your body turns food into…

Read More

Stroke is the fifth leading cause of death and a leading cause of disability in…

Read More

Muskegon, MI — Muskegon Surgical Associates has demonstrated its commitment to patient safety by gaining…

Read More